2023-01-15
Viewed: 605
Tags:
外贸  
中国工厂  
进出口  
World Leading Closed Pod System Provider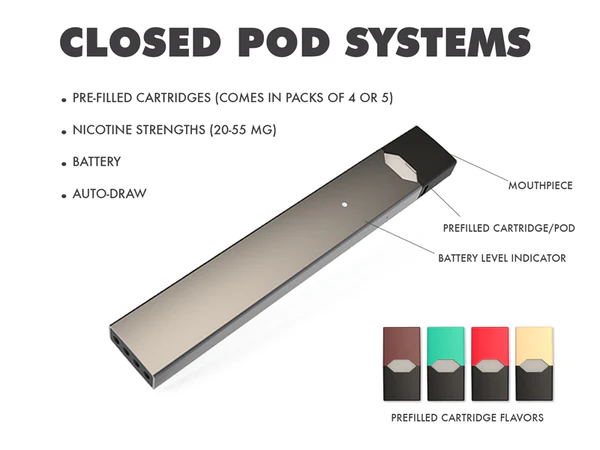 World Leading Closed Pod System Provider
There are two main types of e-cigarettes on the market: open e-cigarettes and closed e-cigarettes. Closed electronic cigarettes are the collective name of bomb-changing electronic cigarettes and disposable electronic cigarettes. Because the closed pod system is used, e-liquid cannot be injected by itself, and the cartridges are used as consumables and replaced immediately, so they are called closed electronic cigarettes. What are the benefits of closed electronic cigarettes?
1. Easy to operate and easy to carry
Compared with open electronic cigarettes, closed electronic cigarettes are generally smaller and more convenient to use. At the same time, it has a user experience close to that of an open electronic cigarette. There is no need to replace pods, and there is no need to carry heavy chargers and other accessories. Very convenient for friends on business trips.
2. Stable performance
Due to the completely closed design of disposable electronic cigarettes, the operating links such as charging and replacing pods are reduced, and the occurrence of failures is also reduced. Problems such as circuit failures and liquid leakage that rechargeable electronic cigarettes cannot solve are here in disposable electronic cigarettes. has been completely resolved. Brands choose to sell this kind of e-cigarettes, which can better grasp the quality control and effectively avoid most of the after-sales problems.
2. Controllable raw materials and high safety
The pods of the pod-changing e-cigarette are disposable after use, and cannot be reused, and cannot be refilled by themselves. Only the original e-liquid can be used. The raw materials are controlled by the manufacturer. For the brand, choosing this kind of electronic cigarette can protect the safety of customers to a certain extent, and is conducive to the long-term development of the brand.
We are SMOORE, the world's largest manufacturer of vaping devices. Over the years, we have been continuously increasing our investment in basic research on atomization. Our company has set up 14 research institutes, and R&D personnel account for 40+%. In 2022 alone, we have invested as much as 1.68 billion yuan in R&D funding. One of our production workshops needs only a few material preparation operators to run perfectly, with a standard capacity of 6,000 pieces per hour. Compared with traditional manual assembly line projects, on the basis of the same production capacity, the amount of automated labor can be reduced by 84%. As for product quality, our brand FEELM is a high-end atomization technology brand. On its automated production line, there are 9 inspection processes, which can achieve 100% full inspection, and there is no need to worry about defective products. Up to now, the brand's products equipped with our technology have been exported to more than 50 countries and regions around the world, and have been highly recognized by consumers around the world. If you are interested in us, welcome to contact us! Look forward to working with you!
Best pod
Replaceable pod vape
SMOK global partners
Vape pod
Vape Pod System
Pod Mod
India vape
mi-pod


所有评论仅代表网友意见
---