Nov 9, 2018
Viewed: 176
Tags:
Sunglasses Wholesale China
海外营销
zhantai, Sunglasses Wholesale China,Optical Frames Wholesale China,Wholesale Sunglasses Company from China Zhantai,Sunglasses Wholesale China, Optical Frames Wholesale China,glasses OEM China, glasses ODM China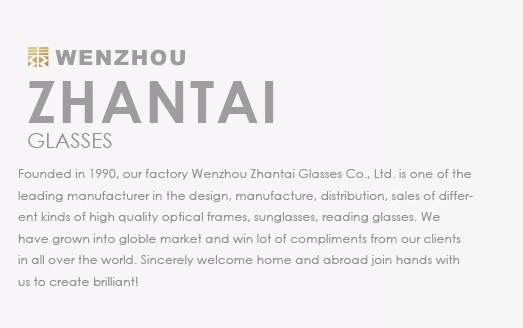 Zhejiang Zhantai Investment Co., Ltd, China,
"Glassesol" is the China leader in premium eyewear market. Discover the collections of sunglasses and eyeglasses for women, men and kids.
We have customized services for the following famous brands: UNIQLO, Go eyewear group, Speedo, Mercedes-Benz, Safilo, Gu, MUJI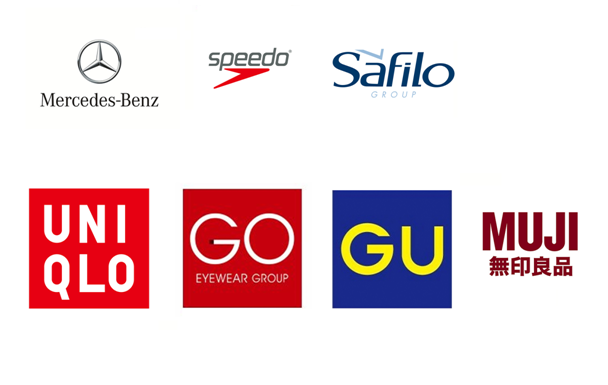 Zhejiang Zhantai Investment Co., Ltd (former Wenzhou Zhantai Glasses Co., Ltd) is headquartered in Wenzhou, the southeastern part of Zhejiang Province. Zhantai is founded in 1990. Under the company mission of creating value for all the customers, the basis of insisting on international trade, the leading projects of eyeglasses manufacturing, brand management, cross-border electric business, Zhantai establish a new pattern with the support of overseas investment, international trade, international e-commerce, manufacturing, domestic investment.
Glassesol.com offers a wide selection of Wholesale Sunglasses in a unique variety of styles and colours – but wait, there's more than that! What really makes us stand out among our peers is our Logo Customization Service, available for any Wholesale Buyers! The Minimum Amount for a Customization Order is 60 pieces (12pieces x 5packages) – quite different from most other Suppliers, which do not offer such a service for lower quantity orders. On top of that, you can choose how you want your Logo: either to be printed on the legs or laser-marked on the lenses. Rest assured, we have plenty of stock for all the Styles – including Basic, Classic, Fashion Styles, and many more – so you can find the perfect fit for your own needs! If no Customization is needed, your order can be shipped within 2 days after Payment Arrival, plus we can arrange Fast Shipping all over the World via TNT Express Shipping, which usually takes between 3-7 days for Delivery, and the cheaper option with EMS Small Packages (between 15-30 days). Behind Glassesol.com we have an amazing Product Sourcing Team with over 20 years experience in the Glasses Production Field, with strict Quality Control – assuring the Best Quality at very reasonable prices! For immediate inquiries or any further assistance, please contact our Live Chat Customer Service – where we have the friendliest Customer Support working 24/7 to answer all your questions!
The company's main products involve sunglasses, luggage & cases, belts and other kinds of accessories. Our products mainly exported to Europe, North America, South America and Southeast Asia, more than 100 countries and regions. For many years, Zhantai ranked "Wenzhou Top 100 Export Enterprises" and "Wenzhou Top 10 Eyeglasses Export Enterprises" and won the "Wenzhou City AA Grade Tax Reputable Enterprise", "the Contract and Keeping Promises Units ", "Wenzhou Ouhai District Meritorious Enterprise" and other more than 100 honors. Zhantai owns well-known brands and famous trademarks like "ZhanTai" and "Shinetime".
In the field of sunglasses, lead by the "create Zhantai eyeglasses kingdom, leading the fashion trend" vision, rely on the advantage of exquisite production technology, rich use of color, advanced management philosophy high quality service, Zhantai constantly provide variety of sunglasses for global customers with fashionable style, reasonable price, high quality and timely delivery services. The company's business operations use the supply chain management platform to achieve information through, sharing and monitoring, and formed a professional competitiveness in sunglasses filed. At the same time, rely on accurate strategic positioning, advanced equipment and technology, we constantly adapt to the pulse of the development of knowledge economy, and will promote the standards and capabilities to provide.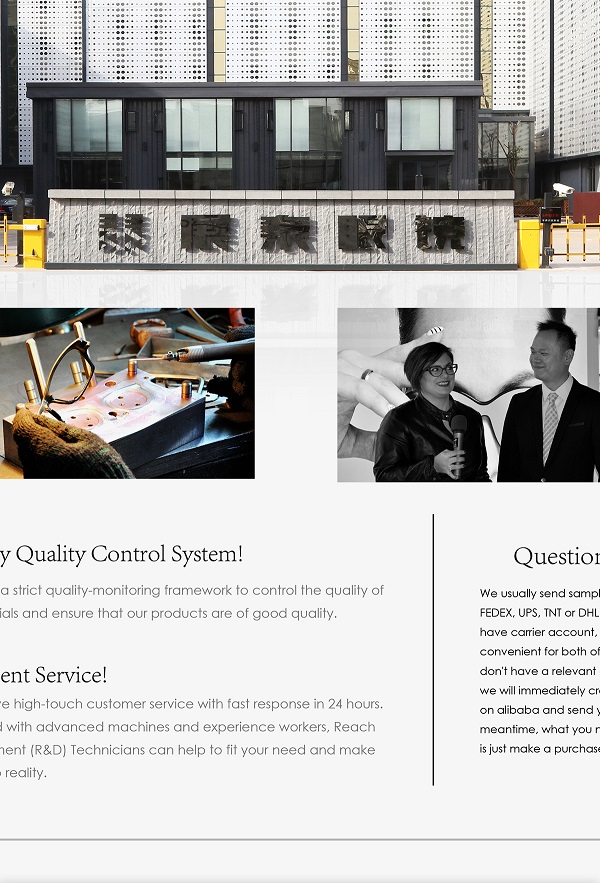 Zhantai Glasses Co., Ltd. is located in Wenzhou Ouhai Economic Development Zone, Wenzhou, China. It is a key enterprise in Wenzhou Ouhai. The company has a production area of over 20,000 square meters, a total investment of nearly 70 million yuan, and an average of more than 1,000 employees. More than 150 people. The company specializes in producing high, medium and low grade plastic sunglasses, with an annual output of 10 million. The company has modern production equipment imported from abroad, strong technical force, scientific management level and professional production level. With more than ten years of experience in production and processing of optical glasses manufacturers. Product sales channels are broad, exported to the United States \ Europe \ South America \ Southeast Asia and other places.
Since 2003, after long-term market research and research, combined with years of production and sales experience, the company has been market-oriented and actively explored the domestic glasses sales area. It has obtained the exclusive agency rights of the famous Spanish sunglasses brand 'SHINETIME' in China and Southeast Asia. .
The 'SHINETIME' brand product case has European fashion elements, adhering to the European classic design style. With its exquisite craftsmanship, rich sense of the times and rich color, it reflects the unique quality of 'SHINETIME' brand glasses. Catering to the noble temperament of the city's upstart, so that the noble quality of life is reflected to the extreme.
We sincerely look forward to your joining and cooperation!
Contact Us : www.glassesol.com
rayband sunglasses,sunglasses metal frame,night vision goggles,sunglasses mens,glasses frames uk,glasses frames US, glasses frames USA, glasses frames OEM,glasses frames ODM, China biggest glasses factory, China sunglasses,shades for woman, woman sunglasses,wholesale sunglasses online, wholesale sunglasses China,wholesale sunglasses USA,
OEM/ODM glasses, Custom glasses, China glasses manufacturers, China glasses suppliers, China glasses factory directory, China glasses exporters, China glasses wholesalers, Glasses, eyeglasses, eyewear, Sunglasses, Optical frames, Reading glasses,
fashion sunglasses wholesale China, bulk wholesale sunglasses china, wholesale designer replica sunglasses China, cheap sunglasses from China, china sunglasses manufacturer,designer sunglasses China, wholesale sunglasses by the dozon, china wholesale sunglasses ray ban,
国家(country) 首都(capital) 阿富汗 Afghanistan 喀布尔 Kabul 孟加拉国 Bangladesh 达卡 Dhaka 不丹 Bhutan 廷布 Thimphu 缅甸 Burma 仰光 Rangoon 柬埔寨 Cambodia 金边 Phnom Penh 中国 China 北京 Beijing/澳门 Macau 印度 India 新德里 New Delhi 印度尼西亚 Indonesia 雅加达 Jakarta 日本 Japan 东京 Tokyo 老挝 Laos 万象 Vientiane 马来西亚 Malaysia 吉隆坡 Kuala Lumpur 马尔代夫 Maldives 马累 Male (Maale) 蒙古 Mongolia 乌兰巴托 Ulaanbaatar 尼泊尔 Nepal 加德满都 Kathmandu 朝鲜 North Korea 平壤 yongyang 巴基斯坦 Pakistan 伊斯兰堡 Islamabad 菲律宾共和国 Philippines 马尼拉 Manila 新加坡 Singapore 新加坡 Singapore 韩国 South Korea 首尔 Seoul 斯里兰卡 Sri Lanka 科伦坡 Colombo 泰国 Thailand 曼谷 Bangkok 土耳其 Turkey 安卡拉 Ankara 越南 Vietnam 河内 Hanoi 文莱 斯里巴加湾市 巴勒斯坦 Palestine 锡金 Sikkim 甘托克 阿尔巴尼亚 Albania 地拉那 Tirana 奥地利 Austria 维也纳 Vienna 比利时 Belgium 布鲁塞尔 Brussels 保加利亚 Bulgaria 索非亚 Sofia 克罗地亚 Croatia 萨格勒布 Zagreb 塞浦路斯 Cyprus 尼克西亚 Nicosia 丹麦 Denmark 哥本哈根 Copenhagen 芬兰 Finland 赫尔辛基 Helsinki 法国 France 巴黎 Paris 德国 Germany 柏林 Berlin 希腊 Greece 雅典 Athens 匈牙利 Hungary 布达佩斯 Budapest 冰岛 Iceland 雷克亚未克 Reykjavik 爱尔兰 Ireland 都柏林 Dublin 意大利 Italy 罗马 Rome 列支敦士登 Liechtenstein 瓦杜兹 Vaduz 卢森堡 Luxembourg 卢森堡 Luxembourg 马其顿 Macedonia Skopje 马耳他 Malta 瓦莱塔 Valletta 摩纳哥 Monaco 摩纳哥 Monaco 荷兰 Netherlands 阿姆斯特丹 Amsterdam 挪威 Norway 奥斯陆 Oslo 波兰 Poland 华沙 Warsaw 葡萄牙 Portugal 里斯本 Lisbon 罗马尼亚 Romania 布加勒斯特 Bucharest 俄罗斯 Russia 莫斯科 Moscow 圣马利诺 San Marino 圣马力诺 San Marino 斯洛文尼亚 Slovenia Ljubljana 西班牙 Spain 马德里 Madrid 瑞典 Sweden 斯德哥尔摩 Stockholm 瑞士 Switzerland 伯尔尼 Bern 英国Britain/United Kingdom 伦敦 London 南斯拉夫 Yugoslavia 贝尔格莱德 Belgrade 澳大利亚 Australien 堪培拉 Canberra 斐济 Fidschi 苏瓦 Suwa 基里巴斯 Kiribati 塔拉瓦 Tarawa 瑙鲁 Nauru 亚伦 Yaren 新西兰 Neuseeland 惠灵顿 Wellington 巴布亚新几内亚 莫尔兹比港 Moreaby Papua-Neuguinea Port 所罗门群岛 Salomonen 霍尼亚拉 Honiara 汤加 Tonga 努库阿洛法 Nuku′alofa 瓦努阿图 Vanuatu 维拉港 Vila 西萨摩亚 Westsamoa 阿皮亚 Apia Angola 安哥拉 Afghanistan 阿富汗 Albania 阿尔巴尼亚 Algeria 阿尔及利亚 Andorra 安道尔共和国 Anguilla 安圭拉岛 Antigua and Barbuda 安提瓜和巴布达 Argentina 阿根廷 Armenia 亚美尼亚 Ascension 阿森松 Australia 澳大利亚 Austria 奥地利 Azerbaijan 阿塞拜疆 Bahamas 巴哈马 Bahrain 巴林 Bangladesh 孟加拉国 Barbados 巴巴多斯 Belarus 白俄罗斯 Belgium 比利时 Belize 伯利兹 Benin 贝宁 Bermuda Is. 百慕大群岛 Bolivia 玻利维亚 Botswana 博茨瓦纳 Brazil 巴西 Brunei 文莱 Bulgaria 保加利亚 Burkina-faso 布基纳法索 Burma 缅甸 Burundi 布隆迪 Cameroon 喀麦隆 Canada 加拿大 Cayman Is. 开曼群岛 Central African Republic 中非共和国 Chad 乍得 Chile 智利 China 中国 Colombia 哥伦比亚 Congo 刚果 Cook Is. 库克群岛 Costa Rica 哥斯达黎加 Cuba 古巴 Cyprus 塞浦路斯 Czech Republic 捷克 Denmark 丹麦 Djibouti 吉布提 Dominica Rep. 多米尼加共和国 Ecuador 厄瓜多尔 Egypt 埃及 EI Salvador 萨尔瓦多 Estonia 爱沙尼亚 Ethiopia 埃塞俄比亚 Fiji 斐济 Finland 芬兰 France 法国 French Guiana 法属圭亚那 Gabon 加蓬 Gambia 冈比亚 Georgia 格鲁吉亚 Germany 德国 Ghana 加纳 Gibraltar 直布罗陀 Greece 希腊 Grenada 格林纳达 Guam 关岛 Guatemala 危地马拉 Guinea 几内亚 Guyana 圭亚那 Haiti 海地 Honduras 洪都拉斯 Hongkong 香港 Hungary 匈牙利 Iceland 冰岛 India 印度 Indonesia 印度尼西亚 Iran 伊朗 Iraq 伊拉克 Ireland 爱尔兰 Israel 以色列 Italy 意大利 Ivory Coast 科特迪瓦 Jamaica 牙买加 Japan 日本 Jordan 约旦 Kampuchea (Cambodia ) 柬埔寨 Kazakstan 哈萨克斯坦 Kenya 肯尼亚 Korea 韩国 Kuwait 科威特 Kyrgyzstan 吉尔吉斯坦 Laos 老挝 Latvia 拉脱维亚 Lebanon 黎巴嫩 Lesotho 莱索托 Liberia 利比里亚 Libya 利比亚 Liechtenstein 列支敦士登 Lithuania 立陶宛 Luxembourg 卢森堡 Macao 澳门 Madagascar 马达加斯加 Malawi 马拉维 Malaysia 马来西亚 Maldives 马尔代夫 Mali 马里 Malta 马耳他 Mariana Is 马里亚那群岛 Martinique 马提尼克 Mauritius 毛里求斯 Mexico 墨西哥 Moldova, Republic of 摩尔多瓦 Monaco 摩纳哥 Mongolia 蒙古 Montserrat Is 蒙特塞拉特岛 Morocco 摩洛哥 Mozambique 莫桑比克 Namibia 纳米比亚 Nauru 瑙鲁 Nepal 尼泊尔 Netheriands Antilles 荷属安的列斯 Netherlands 荷兰 New Zealand 新西兰 Nicaragua 尼加拉瓜 Niger 尼日尔 Nigeria 尼日利亚 North Korea 朝鲜 Norway 挪威 Oman 阿曼 Pakistan 巴基斯坦 Panama 巴拿马 Papua New Cuinea 巴布亚新几内亚 Paraguay 巴拉圭 Peru 秘鲁 Philippines 菲律宾 Poland 波兰 French Polynesia 法属玻利尼西亚 Portugal 葡萄牙 Puerto Rico 波多黎各 Qatar 卡塔尔 Reunion 留尼旺 Romania 罗马尼亚 Russia 俄罗斯 Saint Lueia 圣卢西亚 Saint Vincent 圣文森特岛 Samoa Eastern 东萨摩亚(美) Samoa Western 西萨摩亚 San Marino 圣马力诺 Sao Tome and Principe 圣多美和普林西比 Saudi Arabia 沙特阿拉伯 Senegal 塞内加尔 Seychelles 塞舌尔 Sierra Leone 塞拉利昂 Singapore 新加坡 Slovakia 斯洛伐克 Slovenia 斯洛文尼亚 Solomon Is 所罗门群岛 Somali 索马里 South Africa 南非 Spain 西班牙 Sri Lanka 斯里兰卡 St.Lucia 圣卢西亚 St.Vincent 圣文森特 Sudan 苏丹 Suriname 苏里南 Swaziland 斯威士兰 Sweden 瑞典 Switzerland 瑞士 Syria 叙利亚 Taiwan 台湾省 Tajikstan 塔吉克斯坦 Tanzania 坦桑尼亚 Thailand 泰国 Togo 多哥 Tonga 汤加 Trinidad and Tobago 特立尼达和多巴哥 Tunisia 突尼斯 Turkey 土耳其 Turkmenistan 土库曼斯坦 Uganda 乌干达 Ukraine 乌克兰 United Arab Emirates 阿拉伯联合酋长国 United Kiongdom 英国 United States of America 美国 Uruguay 乌拉圭 Uzbekistan 乌兹别克斯坦 Venezuela 委内瑞拉 Vietnam 越南 Yemen 也门 Yugoslavia 南斯拉夫 Zimbabwe 津巴布韦 Zaire 扎伊尔 Zambia 赞比亚