hrclothes.com 0基础谷歌seo优化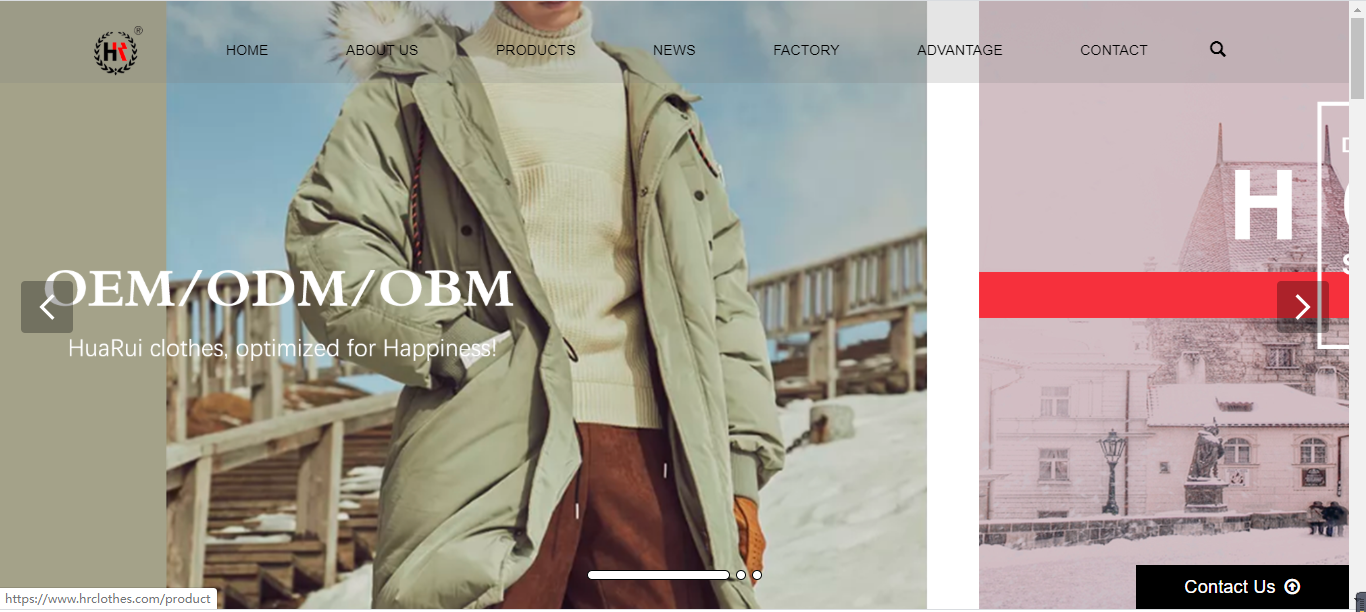 description:
Founded in 2009, Hangzhou Linan Huarui Garment Co., Ltd., located in Lin'an, a city west to Hangzhou Suburb, is a comprehensive corporation owning garment factories and both export and import businesses. The main export products of the Company include jackets , down coats, functional overalls, outdoor sports wear, PU jackets, windbreakers and other loom-processed products.The Company mainly sells its products to the markets in Poland, Russia, France, Netherlands, Finland, Germany and USA.
A jacket is a kind of upper body dress that is as long as the waist or hips. Jackets are usually long-sleeved, and are mostly fastened on the front. Compared to a coat that is also worn as a coat, it looks lighter, fits better, and has a simpler style. Jackets are generally taken as a household item, but some are high fashion or special protective equipment.
The jacket filled with down filler in the down jacket has a huge and round shape. Down jackets generally account for more than half of the duck down. At the same time, you can mix some small feathers, clean the duck down, sterilize it at high temperature, and then fill it in the clothes is the down jacket. The down jacket has better thermal insulation. It is mostly worn by people in cold areas, and is also commonly used by polar inspectors.
When working clothes are customized, due to work positions and working environment, there are some functional requirements for working clothes, such as waterproof, fireproof, anticorrosion, anti-acid, etc. These functional needs need to choose corresponding functional fabrics to meet
In order to meet the needs of various industries for work clothes, functional work clothes are firstly designed to meet the needs of functionality. Special functional fabrics are now available. For example, the most common anti-static fabric is dry in spring, autumn and winter, and it is easy to get static electricity when wearing clothes. For ordinary industries, cotton fabrics can be selected to reduce the generation of static electricity and improve wearing comfort. For those with anti-static requirements, you can choose professional anti-static fabrics to completely prevent static electricity.
Functional workwear is required by rigidity, so special functional fabrics must be used, so it is slightly different from ordinary workwear in terms of comfort, and more attention is paid to functional satisfaction.
Outdoor clothing is clothing used for outdoor sports. The outdoor environment is complex and changeable. In order to resist the harm to the human body from the harsh environment, protect the body heat from being dissipated and quickly expel the sweat generated during sports, the clothing worn during mountaineering, climbing and other outdoor sports.
优化关键词如下:

down jacket,down jacket women,mens down jacket,packable down jacket,patagonia down jacket,north face down jacket,goose down jacket,packable down jacket womens,best down jacket,north face down jacket womens,canada goose down jacket,eddie bauer down jacket,down coat women,
down coat,womens long down coat,long down coat,down coat mens,womens down winter coats,full length womens down winter,canadian goose down coat,womens down winter coat
优化前权重检测图如下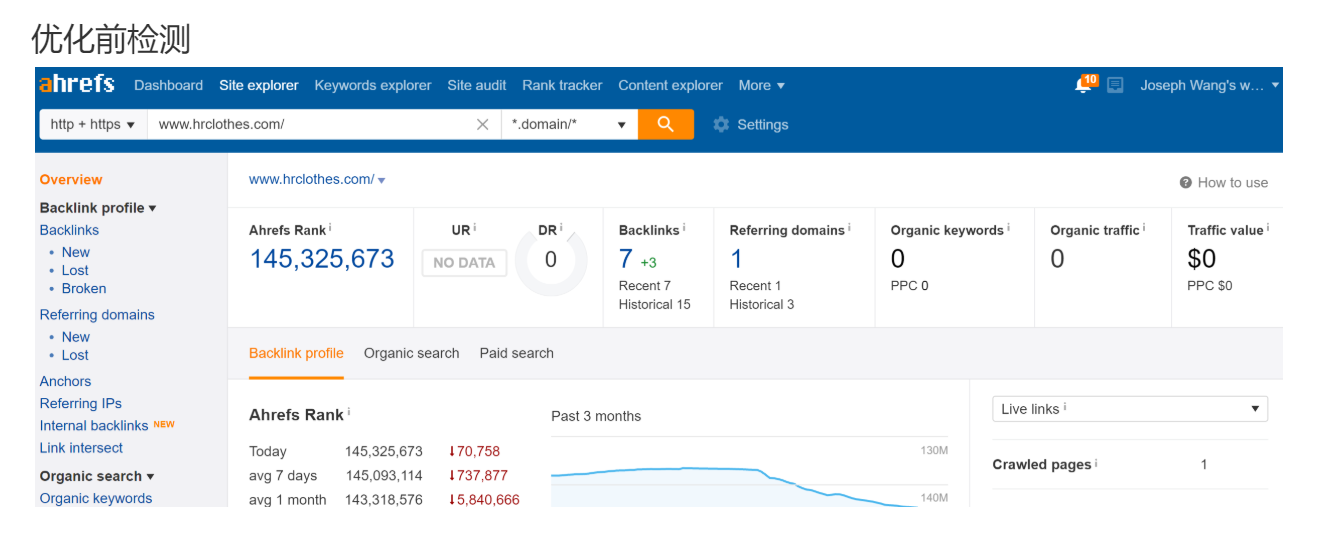 0基础谷歌seo优化
网站的优化开始日期 2020年6月30日