Content Recognition by Aligreen to Help Reduce Irregulation Risks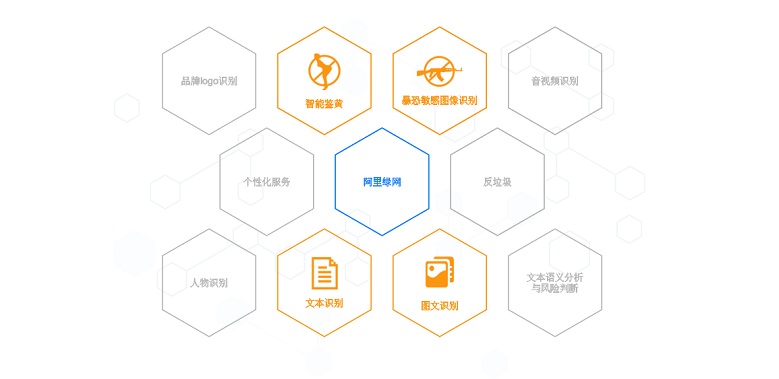 Due to the rapid development of Internet, smart devices and newly emerging business, Internet data is on explosive growth and online engagements like images, videos, texts, chats have been indispensible ways people express feeling, record events and work. Everyday, there are over 1 billion videos and images uploaded to Internet and over 5 billion posts spreading through various social media and this trend continues to grow in a high speed.
These ever-growing contents are full of many uncontrollable negative information, such as porn videos and images, sensitive political contents, terrorist and violent messages, junk ads. On one hand, with government's more and more severe regulation, the management on Internet data on all sites is becoming more and more seriously, on the other hand, people's perception and understanding of unstructured contents are still in initial stage, so smarter technologies are required to help people to explore the hidden huge commercial value.

Based on in-depth technical study and vast sea of data support, Aligreen provides versified content recognition services to help users reduce the irregulation risks. So far, website content detection and porn image identification have been available to the public subsequently followed by junk ads filter, image-text distinguishment, video recognition, etc.
Product Orientation
As a pioneer in content security, Aligreen, born from Alibaba Group's years of accumulated security technologies and regulatory experience in Aliyun, Taobao and Alipay, provides users sophisticated and light-weight access content security solutions, help enterprises and developers quickly discover the risks about text, image and video in a complicated and changeable Internet environment to protect information content security. Currently, Aligreen products include Content Detection API, ECS Site Detection and OSS Porn Image Identification.

Content Detection API
Mainly detect the texts, images and videos about porn information, sensitive political contents, terrorist and violent message and junk ads. Besides, audit, marking and custom configuration in a systematic way guarantee access effect and personalized requirement. Meanwhile, an integral security solution is provided in combination with Alijaq's products like Big Data Risk Control, Mobile Security and Real Person Authentication.

Our customers including but not limited to all UCG (User Content Generating) platforms like video sites, live-broadcasting platforms, social media, media platform, vertical community/forum, e-commerce sites, storage platforms, CDN platforms.
ESC Detection API

Provide home page and web page content detection services specific to Aliyun ECS users. Inspect if your home is attacked or hangs a horse and send you address and snapshot of irregulatory webs for web rectification once there is suspicious irregulatory information in your sites.

OSS Porn Image Identification

Provide one-station porn image identifaction Saas service specific to Aliyun OSS users. Users can indentify images stored in OSS. "Delete" and "Freeze" functions are also provided.
"Content Recognition by Aligreen to Help Reduce Irregulation Risks"的评论