Foreign trade platform
Foreign trade platform
The current foreign trade platform is usually referred to as the e-commerce trade platform. As for the traditional foreign trade platforms like the Canton Fair and the Foreign Trade Expo, it is not discussed in this article. We know that the e-commerce platform has three forms: B2B, B2C, and C2C (the meaning of the three will not be described). Similarly, the foreign trade platform also has three forms of B2B, B2C, and C2C.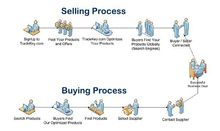 Chinese name Foreign trade platform Foreign name Foreign trade platform Type B2B、B2C、C2C 型 电子商务平台
table of Contents
1 Basic process
2 Hybrid
3 Website Classification
? Browse website
? Marketing Website
4 B2B platform
5 Earnings
? Commission
? Membership fee
? Advertising costs
? PPC
? Value-added services
? Offline services
? Business cooperation
? Pay Per Inquiry
6 B2B advantages
? Reduce procurement costs
? Reduce inventory costs
? Save turnaround time
? Expand market opportunities
7 Foreign Trade Payment Tools
? PayPal
? Wire transfer
? Western Union International Money Transfer
Basic process editing
Mixed editing
With the development of online foreign trade, there have been many mixed foreign trade platforms in China. Among them, many foreign trade platforms claiming to be B2B models are actually a mixture of B2B, B2C, and even C2C.
The buyers and sellers of these platforms are not just businesses. As far as sellers are concerned, the proportion of foreign trade companies (or companies), wholesalers, retailers, and foreign trade individuals is comparable. As far as buyers are concerned, wholesalers, retailers, and individual consumers also each have a seat.
Secondly, in the process of natural selection, whether it is a business/firm in the form of a merchant (such as a wholesaler, retailer, agent, or even a manufacturer), or a foreign trade Soho or consumer in an individual form, whether it is The buyer (Buyer) or the seller (Seller/Supplier) can find a suitable space for development in this type of platform. Therefore, the platform also presents a mixed business model. Third, because different products, different industries, different markets, different stages, and different regions on the platform vary greatly, the platform also shows great tolerance and diversity. Here is not an example.
Of course, with the development of a hybrid foreign trade platform, the platform itself will also have a trade-off. Some relatively old hybrid foreign trade platforms (actually young) may gradually focus on the B2B model. For platforms such as LianChang.com, which are still in the early stages of development, the diversity of development opportunities is even more prominent. Therefore, there is no need to rush to "shelving" themselves. The so-called intentional planting of flowers and flowers, and the uninhibited nature of the plant, nobody can tell which model is the most promising.
Website Category Editor
Foreign trade websites can be divided into browsing websites and marketing websites according to their functions.
Browse website
Browsing websites are websites established by enterprises for displaying products and corporate information.
Advantages: The cost of establishment and maintenance is low. Subsequent maintenance costs after the basic establishment of the station.
Disadvantages:
1, because the domestic establishment of the station is basically the use of a few fixed website templates, so most of the browsing-type corporate websites are almost the same;
2. Only the display of business and product information can only be done, lack of interaction, and can not establish contact with customers through the website;
3. The browsing website does not update information in a timely manner, which easily leads to a decrease in customer trust in the enterprise.
4. Domestic servers affect the quality of browsing by overseas buyers;
5. It is not conducive to the promotion and expansion of post-networking.
Marketing Website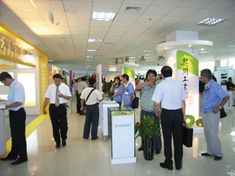 The marketing website integrates various online marketing concepts and website operation management methods. It not only pays attention to the professionalism of website construction, but also pays more attention to the entire process of website operation and management. It is a full-scale network marketing model integrating corporate website construction and operation and maintenance.
Advantage:
1. Pay attention to the details of website construction and pay attention to the experience of customers;
2, website construction in accordance with the habit of search engine construction site, easy to search engine included;
3. The company has its own back office to facilitate the management of websites and information;
4. The marketing website has its own inquiry system to facilitate the communication between the enterprise and the customer.
5, is not simply a corporate display platform, but also the company's sales platform.
Disadvantages: Fees are higher than browsing websites.
B2B platform editing
Foreign trade b2b platforms like Tradekey, Alibaba, Global Sources, Europe Yellow Pages and Made in China, ECVV, HC, etc. In fact, it is also a more traditional form of foreign trade, providing buyers with information platforms. Success or failure lies in the communication between buyers and sellers, mainly MIC products, mostly large orders. Completed by sea container. Such orders are often pursuing quantity. Therefore, such platforms are more suitable for suppliers who want to export.
Profitability Editing
commission
Take a commission and charge only after the successful transaction between the buyer and the seller. [1]
membership fee
Enterprises participating in e-commerce transactions through the third e-commerce platform must register as members of the B2B website. Each year they must pay a certain membership fee to be able to enjoy the various services provided by the website. The current membership fee has become the main source of income for the B2B website in China. . The advantage of using the platform lies in the availability of more industry information. At the same time, cooperation with larger platforms can also enhance the brand value of the company. The charging platform will be subject to a series of auditing mechanisms to enhance the integrity value of the company. Directindustry Industrial B2B Platform Standard membership fee 4990USD/year, value-added plan 6942USD-19266USD/year.
advertising fee
Online advertising is the main source of profit for portal websites, and it is also one of the major sources of income for B2B e-commerce websites.
ranking of bidding
In order to promote the sales of products, the company hopes to rank itself in the information search on the B2B website. On the basis of ensuring the accuracy of information, the website adjusts the rank order according to the membership payment.
Value-added services
In addition to providing trade supply and demand information, B2B websites often provide unique value-added services, including corporate certification, independent domain names, industry data analysis reports, and search engine optimization. Like spot certification is a special value-added service for electronics industry, because electronic buyers usually pay more attention to inventory. In addition, the Google ranking promotion service for electronic models is one of search engine optimization. For example, the ecvv platform has this value-added service. Enterprises are more interested in this. Therefore, according to the industry's particularity, we can dig deep into the needs of customers and then provide targeted value-added services.
Offline service
Mainly include exhibitions, periodicals, seminars, etc. Through the exhibition, suppliers and buyers communicate face-to-face, and ordinary SMEs prefer this method. The journals are mainly about industry information and other information, and journals can also be embedded with advertisements. Various exhibitions and purchasing conferences organized by ECVV have also achieved good results.
Business Cooperation
Including advertising alliances, governments, industry associations, traditional media cooperation, etc. Advertising network is usually an online advertising network. Amazon has achieved good results through this method. However, in China, affiliate marketing is still in its infancy. Most websites are still unfamiliar with affiliate marketing. Several domestically well-established advertising alliances include Baidu Union and Google Alliance.
Pay by inquirer
Different from the traditional annual payment model for member packages, the pay-per-in-demand model means that companies engaged in international trade do not pay according to time, but instead follow the actual effect of overseas promotion, that is, the actual effective inquiry from overseas buyers. Paying. Which inquiry is valid, the initiative in the hands of consumers, consumers determine their own to decide whether to consume. Despite the good momentum of the B2B market, the B2B market still has an immature aspect. This immaturity is reflected in many of the innate trading advantages of B2B transactions, such as online price negotiation and online collaboration that have not yet been fully utilized. Therefore, the traditional annual charging model is increasingly impacted by an inquiry-based payment platform represented by ECVV. "Payment by Inquirer" has four major features: zero down payment, zero risk, initiative, and consumption rights; free promotion and wide targeting; timely payment and convenience. The majority of enterprises need not risk the risk of "putting in tens of thousands of yuan and more than 100,000, and not collecting costs in one year". Zero investment can be enjoyed by free global promotion. After a successful inquiry is obtained, the authenticity and effectiveness of the inquiry are identified. After sex, just pay the price of a single inquiry online to obtain an opportunity to negotiate directly with overseas buyers. The initiative is entirely in the hands of the supplier.
B2B advantage editing
Reduce procurement costs
Enterprises through the establishment of e-commerce with suppliers to achieve automatic online procurement, can reduce the two sides to invest in the manpower, material and financial resources. In addition, the purchaser company can integrate the company's internal procurement system, unified procurement from suppliers, and achieve bulk purchases to obtain discounts. For example, Wal-Mart has connected more than 3,000 supermarkets in the United States through the Internet, unified procurement and distribution, and saved a lot of procurement costs through bulk purchases.
Reduce inventory costs
The company establishes an inter-enterprise e-commerce system with its upstream suppliers and downstream customers, realizes production with sales, sets production, and achieves efficient operation and unification of logistics to maximize inventory control. For example, Dell allows customers to order on the Internet to realize the efficient operation of business processes and greatly reduce inventory costs.
Save on turnaround time
Enterprises can also establish a unified e-commerce system with suppliers and customers to achieve direct communication and transactions between the company's suppliers and the company's customers, reducing turnover. Parts of Boeing, for example, are sourced from suppliers, and a large part of these spare parts is used to satisfy its customer airlines when they are servicing airplanes. In order to reduce the intermediate turnover link, Boeing Company established a e-commerce website to achieve direct communication between Boeing's suppliers and customers, which greatly reduced spare parts turnaround time.
Expand market opportunities
By establishing online business relationships with potential customers, companies can cover markets that were difficult to cover through traditional channels and increase their market opportunities. For example, through Dell's direct sales through the Internet, 20% of new customers come from SMEs. Through the establishment of inter-company e-commerce with these companies, the transaction costs of both parties are greatly reduced, and the incentive for online purchases by SME customers is increased.
Foreign trade payment tool editor
PayPal
PayPal is a company owned by eBay and is dedicated to enabling individuals and businesses to securely, easily, and easily make payments and collect payments online via e-mail. The PayPal account is the safest online e-account introduced by PayPal. Using it can effectively reduce the occurrence of online fraud. The advanced management features integrated in PayPal account make it easy to control the details of each transaction. Over 90% of sellers and over 85% of buyers in cross-border transactions recognize and are using PayPal electronic payment services.
wire transfer
The seller needs to open a bank account in the import bank and provide remittance lines to foreign buyers (special remittance lines need to consult your import bank). Foreign buyers can go to the local bank to send you international remittance according to the provided remittance lines. However, foreign buyers need to bear high remittance fees. The arrival time is 3-7 days, and the remittance will go directly to your bank account.
Western Union International Money Transfer
Western Union is currently the world's largest international remittance company, and it is also the first international company to enter the country. It has cooperated with Agricultural Bank of China and China Post to carry out the US dollar international remittance business at designated business outlets. MoneyGram is the second largest international money transfer service company in the world and has cooperated with ICBC to conduct business.